Who are we?
Izzy's Entertainment
Izzy's Entertainment is an innovative entertainment company. We provide dynamic services, featuring high end creations and fresh new concepts.
WHAT CAN WE DO FOR YOU?
We are renowned for our ability to work in consultation with our clients to design entertainment packages to make the occasion truly unique. Our entertainment plans feature a range of amazing roving artists, aerialists, acrobats, balloon modellers, face painters, a range of seasonal characters and much more. We are also constantly developing new entertainment concepts and are committed to providing quality, creative entertainment solutions to make your event truly memorable.
Online classes, virtual parties & personalized recorded messages for kids for any occasion
Games & Activities
Making kids play tons of games such as passing the parcel, eggs & spoon race limbo, tunnels, musical
chairs, three-legged race, simon says, obstacle course, balloon pop, pin the tail on the donkey, tag,
treasure hunt, statues, duck duck goose, wrap the mummy, DIY arts & craft, face painting and
tattoos.
Best Magic Show
Grand master of kid's magic show performing jaw dropping tricks. Also, engaging and teaching
children some tricks to foster their imagination, teamwork and decision making.
DJ – non stop dancing
Best Kid's DJ in town, flawlessly mixing the classic and latest songs to keep kid's and parent's dancing
and enjoy to the fullest.
OUR SHOWS
The children will love being involved in the story with lots of opportunities of audience participation, singing and dancing. From traditional pantomime stories to children's musicals, our shows keep the children smiling with stories packed full of action and great characters.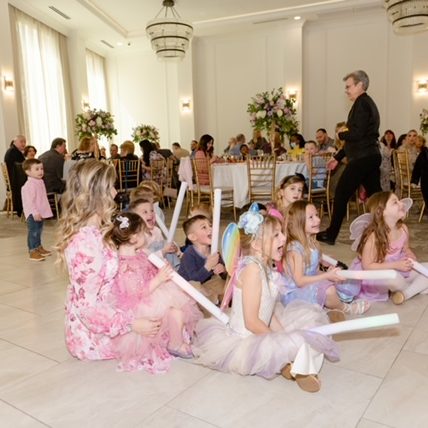 Teamwork, physical fitness & healthy eating
TOY SOLDIER & BALLERINA
Classic Interactive Pantomime The story begins in the Toyshop, The toys are getting ready for the day but there is a problem! The Ballerina Music Box is not working… and the Ballerina cannot dance ! Then with the help of a Toy Soldier, the beautiful Music Box Ballerina and the children, they save the day!" The Toy Soldier and the Ballerina will captivate the audience with theatrical routines, filled with music and dance. This exciting adventure story fosters teamwork, physical fitness and healthy eating.
Imagination, teamwork, physical fitness & decision making
EMERALDINE THE FAIRY & PIRATE PETE TREASURE ADVENTURE
The Story begins at Gemstone Island where the Fairy meets a Pirate looking for his Treasure! With the help of a Pirate Map the characters will encourage the children to identify objects, use geography and find the difference between the sea and land. The children will be mesmerized by the original pirate songs and dancing as they interact with the characters. This exciting adventure story fosters imagination, teamwork, physical fitness and decision making.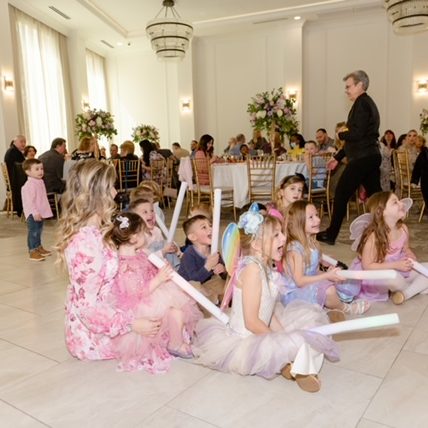 Healthy eating & educational themes
EASTER WONDERLAND
This Easter Live show is a modern classic with an interactive storyline to involve the audience. A variety of educational themes are cleverly woven into the story to enhance the children's learning as well as their enjoyment. Alice and the Easter Bunny will captivate the audience with theatrical routines filled with music and dance. Children will also learn the importance of healthy eating understanding that chocolate is a "sometimes" food
Why Izzy's Entertainment?
WHAT MAKES US STAND OUT
Performers are carefully selected, trained and have exceptional skills in children's entertainment and teaching.
Fully insured with industry standard public liability
Free Original songs to download for your center
Free Interactive teachers resources with each show booked to re enforce the Early Years Learning Outcomes
Free Poster and Marketing Materials to promote the show at your center
Various Themes: Healthy Eating, Environment, Inclusiveness, Acceptance of Others, Reading and Literacy, Imagination, Drama, Music, Dance
Best Entertainer In New Jersey
DJ Tyler made our child's First Communion so special and memorable. Everything was perfect from music, props, games, activities, storytelling, magic show, puppet show and tons of laughter. We would book him in a heartbeat again.
By Justin & Alice , Summit NJ
Highly Recommend
I met Tyler at my daughter's classmate party. He did an absolutely amazing Dinosaur and Princess themed 4 th birthday party for my son. Every kid aged between 2-7 years had a great time and loved it. Highly Recommend Tyler Winters!!
By Danielle, Princeton NJ
Money Very Well Spent
money very well spent Thank you Tyler ! You are really gifted, kind and an amazing entertainer. We had celebrated my son's 7 th birthday party and had around 16-17 children, 15 adults. Tyler was very friendly, co- operative and professional. He kept the kids engaged all the time with fun filed activities and acts.
By Jay & Priyanka, Cherry Hill NJ